Nasionale Veiling 2021
Ere-lidmaatskap: JW (Pikkie) van den Heever, voormalige voorsitter van die Wolraad, vise-president van Merino SA en ondervoorsitter van BKB direksie
Verdienstelikheid:  Dr. Pierre van Rooyen, veekundige en 19 jaar hoofbestuurder van SA Stamboek tot 2017 (links), met Merino SA president Adrian McNaughton en vise-president Stephanus van den Heever
Verdienstelikheid:  JJ van der Watt, voormalige stoetvee afslaer en byna 40 jaar in diens van BKB
Verdienstelikheid:  Kleintjie Pienaar, bekende Skaap-en-wolbeampte asook Merinoteler van Graaff-Reinet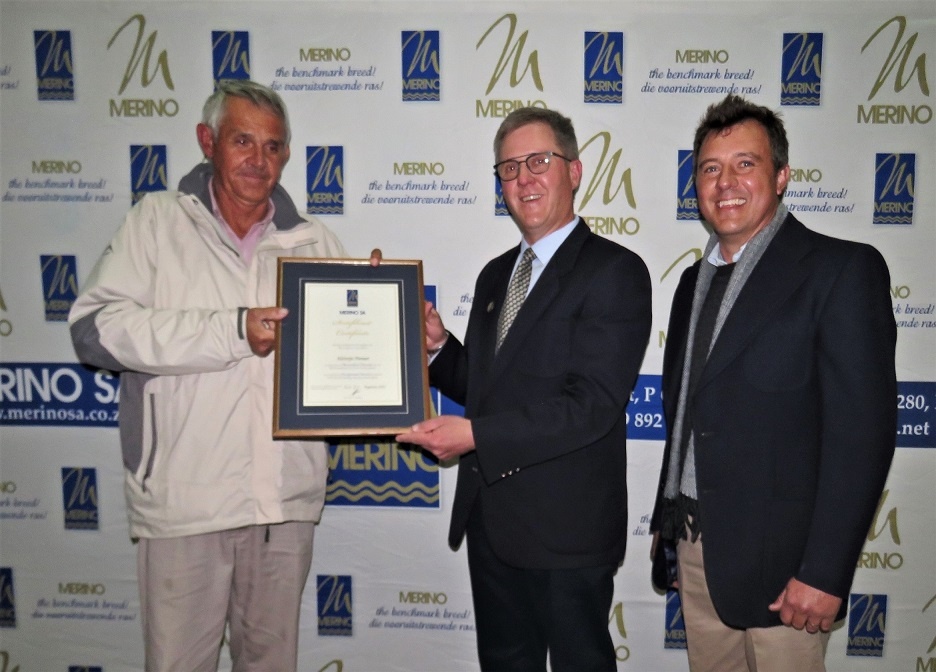 MERINO ADVISERS COURSE 21- 23 JUNE 2021
Back: Diederik van Pletzen, Vince Pike, Eben van Wyk, Wessel Heyns, Johan Fouche, Corrie Swart, Andries van den Heever, Francois Willemse, Dieter Schutte, Marnus van den Heeven, Ian Fourie.
Middle: Ilza Pienaar, Anne-Marie Kotze, Annelize Smit van Niekerk, Nandi Wessels, Presenters:  Frederick Neethling, Giepie Calldo, Arnu van Graan, Piet Venter, Corne Nel, Danie Vorster.
Front: Lebo Molale, Jay Jay Human, Charl Botha, Ali Kiyane, James Veitch
MERINOKURSUS FRANKFORT 20-21
Back: Marcamien Herselman, Mari de Beer, Corlia Bothma, Nandi Wessels, Rona Tack, Dr. Bernice Mostert (SASB), Annelize Smit van Niekerk (NWKV) and Suretha Francis (SASB).
Front: Gert Potgieter, Jaco Saaiman (OVK), Reinhard Vlok, John Melville (OVK), Johan Minnaar, Wernich Vlok, Frikkie Aucamp (BKB) and Eben van Wyk (OVK).
Merino SA Council for 2020/2021 
Back:  Kosie de Villiers, Diederik van Pletzen, Ras van Pletzen, Theron Swanepoel and Uysie Willemse.
Front: John Melville (OVK), Jaco Meyer, Stephanus van den Heever (vice-president), Adrian McNaughton (president), Danie Vorster (manager) and Pierre Vlok (BKB). Absent:  Andre Hugo and Dr Japie van der Westhuizen (Studbook).
Stephanus van den Heever (left) – Vice-President and Adrian McNaughton – President
Retiring Merino SA President Gert Smit (left) receives a gift of appraisal for 15 years of service from the incoming President Adrian McNaughton.
SINCE 1937. A member of the World Federation of Merino Breeders. Merino SA serves as the mutual forum for registered and commercial Merino Breeders and acts as the planner and mouthpiece of all Merino affairs in South Africa.